Welcome to Gävle Theatre
---
We are a large, historic and yellow building in the center of Gävle, opposite to Gävle Town Hall. The building was completed as early as 1878.Gävle Teater is a popular guest venue with large capacity. We present visiting artists and performers from all around the world.
The program is wide and varied; theatre, dance and music events succeed one another. Classics, new works, drama, comedy, musicals, opera, circus, musical theater, shows, stand up, international performances and family theater - Gävle Teater has something for everyone.
We hope to see you at the theater!
P.S. You can also find us on Facebook and Instagram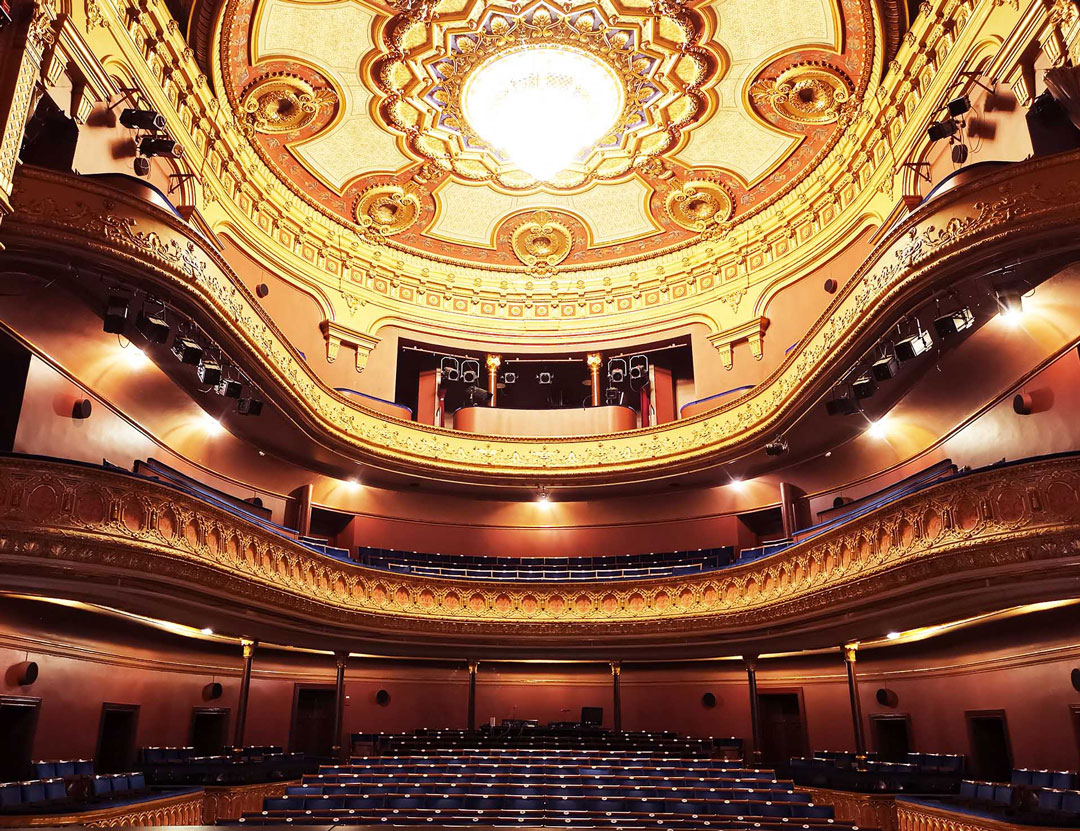 ---
Ticket information
---
Tickets to our performances can be purchased at the box office, located in the building to the right of the main entrance.
The hours of operation are:
Monday 12 am - 2 pm and 4 pm - 6 pm.
Tuesday - Wednesday 12 am - 2 pm
and two hours before each performance.
Phone: +46 26 10 21 00
Email: biljett@gavleteater.se
Wheelchair accessible tickets can only be purchased in Gävle Teater's ticket office.
---
Contact information
---
Address:
Gävle Teater
Teaterplan 1
803 23 Gavle
Phone: +46 26 12 98 20
Ticket office: +46 26 10 21 00
Groups of more than 10 people: +46 26 12 98 21
Email: info@gavleteater.se

History
Gävle Teater is one of the signature buildings in the Swedish theater architecture history. It was renovated in September 1985 and ready to welcome its audience. Axel Fredrik Nyström's more than a century-old theater has undergone a restoration that has restored the original nineteenth-century environment, insofar as it is possible to reconcile with the demands of modern stage technology and a good working environment.
A reverential effort, utilizing both brains and hands as tools, resulted in stunning interiors with rich ornamentation of high value.
On July 10, 1869 Gävle was hit by the great fire and it destroyed the old theater from 1840.
On May 29, 1875 there was a contest where three designers submitted sketches for the new theater. The architects were Axel Fredrik Nyström, E Jacobson and F G A Dahl.
On April 6, 1876, the winner was announced and Axel Fredrik Nyström won with his drawings. The construction started on 12 April, 1876.
After nearly two years, the new theater was completed. The opening ceremony took place on February 13, 1878.
1910 Installation of electricity began.
1929 the theater was purchased by the city of Gävle.
1933 The Gävle Teater society was formed.
1984 One of the largest renovations of the old theater took place.
On 21 Sept. 1985 the theatre reopened.
In February 2003 the Theatre celebrated its 125th anniversary.
Today, year 2018, the theatre is 140 years old and more popular than ever.